Gutter Cleaning
We're pleased to say that we can now clean your gutters as well as your windows!
Using specialist high level vacuum cleaning and inspection equipment we can clear your gutters of leaves, moss and other debris reducing the possibility of extensive water damage and meaning that you don't have to do it by hand yourself saving you time and avoiding the risk of an accident whilst using ladders.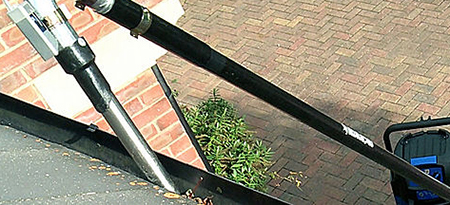 Our system uses a lightweight 50mm diameter carbon fibre pole, meaning we can clear more than other systems which use thinner poles. With a reach of up to 14m we can clear gutters without the need of scaffolding or cherry pickers making it a cheaper, safer and quicker option.
The system is also equipped with a wireless camera so our operators can see exactly what they are doing. This helps ensure the gutters are completely clear. To further aid in this our system can use a variety of heads and tools to allow even the most awkward and inaccessible sections to be cleaned.
To find out more or request a quote please contact us.